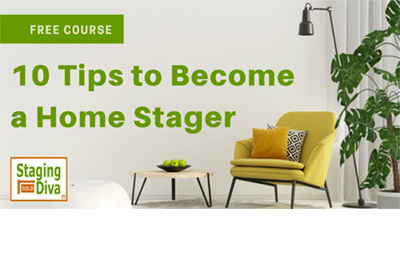 If you're thinking about becoming a home stager, or you're just starting your home staging business, here is a new Staging Diva Jumpstart Course.
10 Tips to Become a Home Stager is totally free and it will help you get started.
I believe the most important skill needed to be a successful home stager is a natural talent for decorating.
You don't need a degree in Interior Design or any 'alphabet soup' of letters behind your name to earn a good living staging homes.
In addition to your raw talent, all you need is the business training to build a sustainable and profitable business.
We all need to be careful about how we spend our money. So if you're thinking of becoming a home stager, you're probably doing a lot of research before investing in a home staging training program.
10 Tips to Become a Home Stager will help you determine whether or not home staging is right for you.
It will also give you a taste of what to expect if you choose to take the Staging Diva Program Home Staging Business Training Program.
The topics covered in this free home staging Jumpstart Course include:
How to be a home stager, even if you already have a job
How much income you can make in staging
Why you don't need to buy any of your own inventory
How to create a portfolio even before you have clients
Where you'll find home staging clients
How to prepare for your first staging consultation
What a stager does and doesn't do
How to choose paint colors and furnishings
How to avoid doing free estimates
The truth about home staging credentials
And More!
> To jumpstart your path to home staging, and learn how to get your FREE Home Staging Course, just click here.