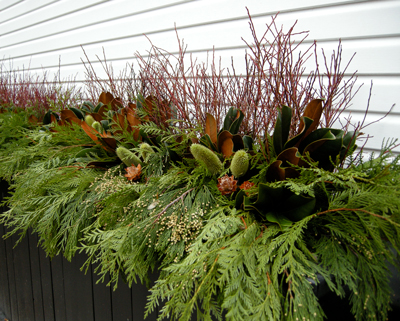 In a home staging business dilemma I posted last month, I tried to get you thinking about what you would do if you were asked to stage a house that was completely taken over by Christmas.
A special thanks to those of you who contributed to the discussion by posting your own advice to the story.
(If you would like to read that original post and comments, click here).
Contrary to some of the comments, I don't recommend holding off listing a property until after the holidays.
Nor would I ask them to hold off on having the property shown.
Don't wait until after Christmas to put a home on the real estate market
There are still people looking for a home in December. There often isn't much for buyers to look at during this time of year, because so many sellers are waiting until after the holidays to list.
Basically, having a house listed over the holidays presents a wonderful opportunity for a smart seller.
When the supply of homes is low, that's THE ideal time to be on the market because there's a greater chance of selling and more potential for selling at a higher price. Remember, when demand exceeds supply, prices go up.
That being said, you don't have to swoop in like the Grinch and steal Christmas from your clients. You do have to make sure they go easy on the tinsel!
Home Stagers, my Christmas home staging tips:
Ensure listing photos are taken without any Christmas decorations.

Nothing dates a photo like holiday decorations and details like that in a photograph are simply too distracting.

Keep holiday decorations simple.

Avoid overwhelming buyers and distracting from the actual house you're trying to sell.

Don't deck all the halls!

Choose one area of the house to decorate and keep it simple.

Décor doesn't have to be focused on Christmas.

Not everyone celebrates the holiday. For example, elements of nature like berries and pinecones in a glass bowl can be decorative and understated without being "Christmas."

With home staging we want decorative accents not theme rooms, even if that theme happens to be many people's favorite holiday.

Use more neutral colors to tone down "Christmas" decor.

Chocolate brown can be used to tastefully tone down more colorful Christmas decor. For example, you can combine dark brown and jewel-toned ornaments for a tasteful and beautiful alternative to red and green.

Plant an outside urn or window boxes with an arrangement that will last all winter.

Check out the window box I had planted in the photo in this post. Says "winter" without saying "holiday." Twigs and evergreens, pine cones and dried poppy pods can look attractive and festive without screaming Christmas.
I love the comment Donna left on my original post. Especially where she shares the words of wisdom she leaves with her clients:
"For every holiday decoration you add to your home, that's one more reason to keep a prospective buyer from buying your home because they can't really see your home through the distractions, lovely as they may be."
Hopefully this article will help prepare you for any holiday home staging situation you find yourself in!