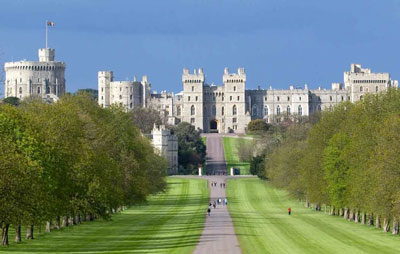 Staging Diva Graduates have spread to another country.
This time England where we have our first home stager in Somerset which is a county in south-west England.
That's a photo of Windsor Castle, sorry I couldn't resist.
Isabelle Gelderblom phoned me before deciding to sign up for the Staging Diva Home Staging Training Program and it was such a pleasure speaking with her.
Despite the fact that she lives across the world from me, she learned about Staging Diva from an online search.
More surprisingly for me, we learned during our phone conversation that our life paths almost intersected several times over the years!
We were both born in the same city and for a time lived in another city on the opposite end of the country.
What was really strange, while Isabelle was a student, she worked in the very same restaurant that had one of my hand painted floorcloths!
That's it on the right in the restaurant, in a photo I took 7 years before our conversation.
We also share a passion for color and design.
While mine lead me to create The Debra Gould Home Collection of home accessories. And later, Six Elements, my home staging and interior redesign business.
You can read more about my backstory here.
Isabelle's passion for color and design lead her to create a business selling her own hand made cards.
After signing up for the Staging Diva Home Staging Business Training Program, Isabelle sent me a lovely gift pack of her hand made cards with a wonderful note thanking me for the inspiration I had given her.
What she didn't know, was her thoughtful gift arrived on my birthday and really brightened my day!
Equally delightful, the card she chose to write her personalized note to me on included one of her illustrations of a group of dancing figures.
The uncanny thing is that 15 years ago, when I was trying my hand at jewelry design, I made a sterling silver pin.
I created a dancing figure for it to express my joy at finally allowing my creative side to emerge, and it looked so much like the figures on Isabelle's note to me!
My pin is in my personal collection, so there is no way she would have ever seen it, yet there was a group of very similar dancing figures in her own design.
She wrote that she chose that particular design to write to me about the inspiration I had given her!
This is not the first time I've found a strong personal connection, or that I share similar life triumphs and challenges, with my students.
It's one of the many joys I've experienced teaching others about the business of home staging.
I feel very honored to be able to help others find their own inspiration to pursue a creative path, especially when I can also show them how to support themselves financially with it!
> Read more about Staging Diva Home Staging Business Training