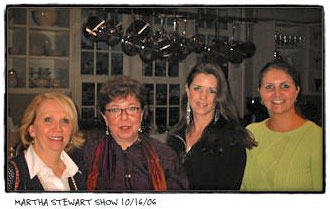 On the set of the Martha Stewart Show, pictured left to right:

Photo provided courtesy of Kerri Brencsons.
Kerri took the lead on organizing this trip for Staging Diva Network members in the New York area. Between Dim Sum at Ruby Foos, dancing it up at Mamma Mia and celebrity watching at Pastis, the group shared lots of discussion of their home staging business successes and challenges.
One of the highlights of the New York City trip was joining the live audience for a taping of the Martha Stewart Show. Against a backdrop of oohs and aahs from the Martha Stewart Show audience, the group was introduced as "the ladies who can spruce up your home before selling," reports Kerri.
This event is only one example of the many things that can come out of membership in the Staging Diva Network. It's our password-protected online discussion group for Graduates of The Staging Diva Home Staging Training Program. We have just under 40 members from all over the US and Canada, and one of our Graduates from Australia.
The Staging Diva Network is a supportive community where members can share their challenges and successes and ask questions. In addition to learning from other members, I join the discussion two or three times per week to answer questions there. Members can start discussions about any topic related to the business of home staging and they also share resources like: where to get the best rental furniture, how to deal with agents who want you to work for free, great business books, LLC versus S Corp., and more.
Once you're a member, you log in whenever you like, read previous discussions, add your comments or start new topics for others to discuss with you.
This Martha Stewart event is sure to be the start of similar get-togthers all over the US and Canada as more members join the Staging Diva Network. I'm hoping for similar things in other countries as the number of international Graduates increases.

Home Staging expert Debra Gould also known as The Staging Diva is president of Six Elements Inc., a leading home staging company that provides free information to raise the standards in the industry and build awareness amongst homeowners and their real estate agents about the benefits of decorating a house to sell. Debra Gould developed The Staging Diva Program to create opportunities for others to grow their own profitable home staging, real estate enhancement businesses.
Learn more about the Staging Diva Home Staging Training Program
Learn more about the Staging Diva Network

[tags]home staging northeast US, home staging NY, home staging VA, home staging NJ, home stager, Martha Stewart, staging diva, real estate staging, home staging business, home staging training, staging diva network, home staging support[/tags]