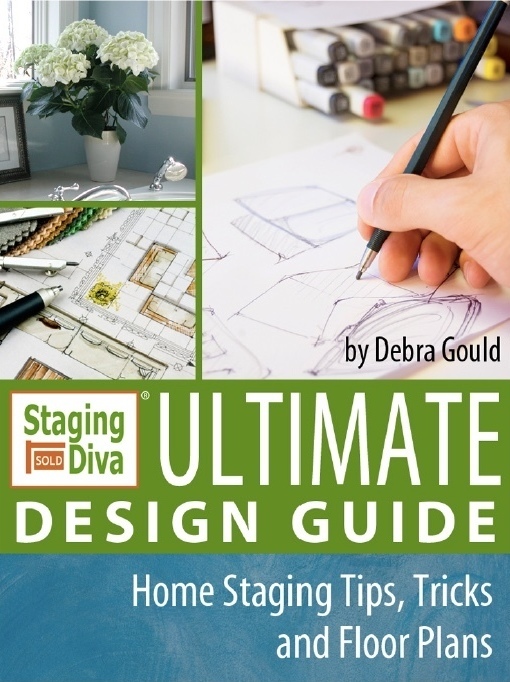 My latest home staging resource came out today – Staging Diva Ultimate Design Guide: Home Staging Tips, Tricks and Floor Plans. Feedback from readers is already pouring in from across the US, Canada and even Europe, including this comment from Kay Keeton in Texas:
"I was so excited to get my copy of the Staging Diva Ultimate Design Guide!
I could not stop reading it! I ate a bowl of cereal for lunch because it was fast and I could get back to reading.
The way you illustrated the concepts with floor plans and photographs made it crystal clear and so easy to understand exactly the way rooms can to be arranged.
Thank you Debra! You have a wonderful way of instilling confidence in your students and graduates."
Isabelle Gelderblom in England writes:
"The Staging Diva Ultimate Design Guide is not only full of fresh design insights but clearly outlines what every home stager needs to know to become successful when staging clients' homes.
This comprehensive resource provides the recipe for success— a must-have for both new and experienced professionals!"
Maureen Jillian in Ontario writes:
"The Guide is fabulous! It is so packed with techniques, tips, and real world examples that being stuck for a staging solution would be hard, even in the most challenging situations.
What a great confidence booster and go-to resource for those 'Yikes, what will I do with this room?' moments! Thank you for producing another valuable tool to support the success of my staging business."
I also heard from Gary Baugher in Tennessee:
"I began reading the Design Guide and couldn't put it down! What a great tool for new stagers and even those who have been in business for awhile.
I enjoyed how you touched on all the different situations we encounter daily, the room by room descriptions and seeing how you stage in detail. You also helped me answer the question if I stage too little or too much.
I liked the ending where you speak of credentials. I remember when I first started, I wondered who would hire me. Then I realized I always had the talent and just lacked the confidence.
Reading your book confirmed I have what it takes and I found it to be a great booster. Debra, I consider you the BEST in our field!!!! Appreciate you sharing your experiences and expertise. Your willingness to always help others succeed is admirable. Great book and certainly worth the value."
While I don't believe someone with a natural talent for decorating needs any formal design training to be a successful home stager, I realized that many aspiring stagers and even those who've been in the business for some time, want specific design direction for decorating a house to sell.
So I kept track of what worked best in the hundreds of homes I staged for my clients and compiled my own home staging design tips and tricks and packed them all into one easy-to-read guide, bringing them to life with before and after photos and floor plans from my own home staging projects.
Anyone who reads this ebook, no matter what their level of design knowledge or experience, will learn exactly how to decorate to sell as opposed to decorating to live which are two very different things.
Learn more about the downloadable Staging Diva Ultimate Design Guide here. You can order it online and be reading it within minutes.