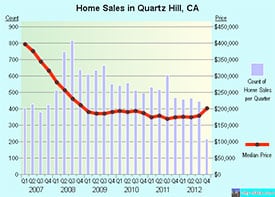 This home staging job in Quartz Hill California is your chance to work on a home that's about 1800 square feet and will be totally empty. You've got a blank canvas to work with and turn into someone's dream home. This project can be a great addition to your home staging portfolio.
The home sits on 2. 5 acres and was built in 1975. Not much has been done to it since then. That's why they're planning on putting it on the real estate market for around $210,000 — even though one of the neighbors just sold for $400,000.
If you're a Graduate of the Staging Diva Home Staging Business Training Program and you work in LA County, this could be the right home staging job for you. Real estate prices have fallen considerably in Quartz Hill since 2007 (as you can see from this graph) so this is an important opportunity to help the home seller get the most possible equity from their real estate sale.
Home Staging Job – How to Apply
It's easy for you to apply for this home staging job. All you need to do is complete the form at the Staging Diva Home Staging Project Referral Service. Please be sure to include "Home Staging Job Quartz Hill California" as the project location in the first line of the form.
This home staging job will be referred first to members of the Staging Diva Directory of Home Stagers at no charge.
If there's not a Directory member available for this project, it will be open to any Staging Diva Graduate with a professional Internet presence. (It's difficult to convince a client to hire you if they can't review your staging portfolio, after all!)
If you get any paid work through this referral (and you're not already a Staging Diva Directory of Home Stagers member), there will be a $250 referral fee, which you can build into your staging consultation fees. It's entirely up to you. You'll be making money on this project from not only your consulting and shopping time, plus you can make a commission on furniture rental, carpet removal, repairs, and painting if you follow the advice I give you in Course 5 of the Staging Diva Home Staging Training Program!
I generate tons of traffic for anyone listed on the Directory. Just one good project would more than pay for your entire training program plus building and hosting your web page on the high-traffic Staging Diva Directory of Home Stagers for an entire year! When clients find you from your listing in the Staging Diva Directory, I do not charge you a referral fee.
Debra Gould, The Staging Diva®
President, Six Elements Home Staging and Voice of Possibility Group Inc.
Debra Gould is an internationally recognized home staging expert that is frequently profiled in the media in the US, Canada and Australia. Debra Gould developed The Staging Diva Program to create opportunities for others to grow their own money-making home staging businesses.
This one project is the perfect example of why your company should be listed in the Staging Diva Directory of Home Stagers. We build your page and all the code to help search engines find you and it only takes 7 days from when you provide your materials!
Learn more about the Staging Diva Directory of Home Stagers
Image: City-Data.com