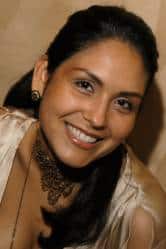 As a child, Christina Rougerie loved to spend summer days rearranging the décor of her family home, anxious to see the look of surprise on her parents' faces when they walked through the door.
Christina dreamed of getting her degree in interior design, but a series of events prevented her from pursuing that goal. However, it did not stop her from re-designing. When the time came to put her home on the market, she saw firsthand how home staging dramatically increases the value of a home. That's when she started researching the subject of home staging and stumbled upon the Staging Diva® Home Staging Business Training Program.
Having a full time job and three daughters to care for meant Christina didn't have much extra time to learn home staging. After reading the reviews for Staging Diva® and other guidance and advice in the Staging Diva Dispatch newsletters and Home Staging Business Report blog, Christina knew it was the program for her.
Christina says, "With Debra Gould's ready-made platform, I was able to start my staging business in a shorter amount of time." She adds, "Having my own business has changed my life forever. I've always been one to strive and work hard, now I can direct that energy to helping others in their life transition."
This energetic Staging Diva Graduate and owner of Divine Designing & Home Staging, is also training for Houston's half marathon while working a full time job, caring for three children and doing as many home staging projects as she can. There aren't many other industries that allow someone such flexibility in their schedules, allowing them to live the life they've dreamed of!
Christina writes, "The Staging Diva® Home Staging Course removed the guesswork. With all Debra's great resources and information, I was able to hit the ground running. Having a home staging business allows me to live my passion everyday and keep up with the latest staging trends. Not to mention the gratification of being my own boss!"
Debra Gould, The Staging Diva®
President, Six Elements Inc. Home Staging
Debra Gould knows how to make money as a home stager and she developed the Staging Diva Training Program to teach others how to earn a living doing something they love.
[tags]career in home staging, home staging, home staging course, christina rougerie, interior design, staging diva, home staging training, learn home staging, debra gould[/tags]