Shown here in MoneySense Magazine, which said, "If you're looking to score on the real estate market, your best investment may not be a house or condo, but an hour with Debra Gould." (Nov. 03)

For more info, email Debra or call
416-691-6615.

My mission is to inspire and empower others to discover new opportunities to live the life of their dreams.

Homeowners earn extra money when they sell their homes making new experiences possible in their lives.

Some travel, others write that book they've always dreamed of. Divorcing couples are sometimes left with enough after their home sale for both parties to make a down payment on separate homes. Another client who suffered a serious stroke was able to pay for the care she needed.

Staging Diva Graduates get the tools they need to start and grow their own home staging business in a profitable and creatively satisfying way.

For many, it's their first opportunity to combine their passion for decorating with a desire to run their own business.

About Debra Gould, The Staging Diva*

After buying, decorating and selling 6 of her own homes in only 8 years, Debra Gould realized she had an innate talent for decorating a house to sell for top dollar.

Switching gears from the successful marketing consulting business she had grown over 10 years catering to some of the largest corporations and ad agencies in North America, Debra started Six Elements Inc. in the fall of 2002, offering Home Staging, Interior Redesign and Color Consulting services.

Debra gained international recognition for her new role within two short years with appearances on HGTV, Toronto 1, CBC National News, Life Channel, GlobalTV, CityTV and in numerous magazines and newspapers in both the US and Canada. Since that time she has been featured in most major media across North America.

Home Staging expert Debra Gould of Six Elements will "supercharge the appeal" of a property CNNMoney

"If you're looking to score on the real estate market, your best investment may be an hour with Debra Gould" MoneySense Magazine


"As color conscious as Matisse" Boulevard Magazine

"Debra Gould, president of Six Elements Inc., specializes in making for-sale properties more attractive" The Wall Street Journal

It could be due to Debra's MBA, her more than 20 years in marketing, or the fact that she's been an entrepreneur since 1989; but regardless of whether she's turning a client's home into a "hot property", or training others to open their own staging business— she brings a refreshing pragmatism balanced with creative sensitivity to any task.

Debra Gould, The Staging Diva interviewed about real estate staging by news anchor Anne-Marie Mediwake on Global TV News.

"I couldn't have imagined that just moving our furniture and art around would get us three offers after we sat on the market for 6 weeks! Our agent wanted us to drop our price $50,000, but thanks to your house fluffing we got 98% of our original price!"

John W., Kingsway *


"Debra's truly transformative Home Staging skills managed to change every room in my house using only my existing furniture and accessories. Suddenly there was space and flow that didn't exist before."

Paula Eng, Aurora *

"Using your Home Staging ideas, we got 5 offers by the end of the first week of showings and sold for $71,000 over our list price. Thanks for giving us the push to do the major things. It really paid off!"

Kathy B., Etobicoke *


In response to so many requests from visitors to sixelements.com, in late 2004 the first Staging Diva® Home Staging Business Training classes were introduced in the US and Canada.

Since that time, Debra has trained over 4000 students in the techniques she learned staging hundreds of homes. She has Graduates as far away as Australia, New Zealand, Europe, UK, Brazil, Barbados, Israel, The Philippines and South Africa.

If you're a homeowner or realtor struggling to find a home stager, visit the Staging Diva Directory of Home Stagers.

If you're creative and love decorating and are considering starting your own home staging business, Debra is able to save you months, if not years, of trial and error by sharing the techniques she's learned along the road to building Six Elements Inc., her own successful home staging business. But don't just take our word for it, check out what our students have to say!

"I give the Staging Diva Program rave reviews. Definitely a 10 on a scale of 1 to 5! We were really put at ease by Debra Gould's warm, friendly and caring demeanor— before, during and after the courses. She is obviously sincere in her desire to share her knowledge and expertise to help budding entrepreneurs just getting into the field of house staging."

Karen Ozer, Sold By Staging (GA) *


"Discovering The Staging Diva Home Staging Business Training Program showed me how I could give up my soul-sucking, well paying job, and leap into a career that would feed my soul and provide financial benefits far beyond what I currently get!

Linda Schleihauf (ON) *

"You truly are amazing and I love all of your tips and most of all your dedication. It shows in all aspects of your work. Thanks again!"

Kathy Love (BC) *

"Debra guided me through the beginning of my new life adventure. She even helped me find my new company name! Now I go to bed at night tired from the day's work and not from stress!"

Lori Sullivan (MD) *

With a unique blend of creativity and business and marketing savvy, Debra Gould is a true entrepreneur. Whenever she feels "stuck" for inspiration, she recalls one of her favorite quotations by economist JK Galbraith:

"The conventional view serves to protect us from the painful job of thinking."

More about Debra Gould

Why home staging works

Free home staging tips

Home staging expert Debra Gould is a featured writer in:

American Chronicle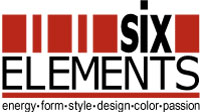 Visit sixelements.com for additional information on Home Staging, Color Consulting, Interior Redesign.

Free Home Staging Tips

Answers to common homeowner questions about home staging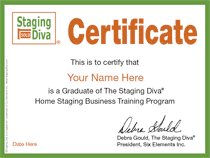 You can be a Staging Diva Graduate and build your own successful home staging business.

Staging Diva Home Staging Business Training.
NEW!
Read free articles about the business of home staging by internationally recognized real estate staging expert, Debra Gould.

Home Staging Business Report