Become a Home Stager
If you have decorating talent, Staging Diva Debra Gould can show you how to turn it into a money-making staging business! She did it for herself and shares her secrets so you can do it too.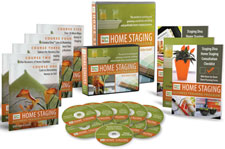 The Staging Diva Home Staging Business Training Program is focused on how to take your decorating or interior design talent and turn it into a profitable Home Staging Business.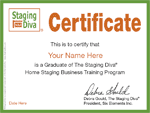 Staging Diva is the ONLY home staging training program taught by someone with an MBA in Marketing and over 25 years of business experience, who has also personally built a successful staging business (not as a sideline to selling real estate).
This ensures that what you learn works in the real world and is based on what you need to know to be a success as a home stager.

Home Staging an essential strategy in both SLOW and HOT real estate markets
"A house is a product that has to be packaged and marketed to the right target audience at the right price," says home staging expert Debra Gould in her book, Staging Diva® Ultimate Design Guide: Home Staging Tips, Tricks and Floor Plans.
In a slow or "buyer's" real estate market, any house is just one of many for sale in a neighborhood. Real estate agents may say the only way to sell is to drop the price, but this ignores the positive sales impact of improving "the product."
In a "hot" real estate market where prices are on the rise, home staging is an effective strategy for attracting multiple offers that are well above the asking price.
Home staging will help any home stand out from the competition and sell more quickly and at a higher price than without staging.
CNNMoney interviewed Debra Gould, The Staging Diva on why home staging is an essential strategy in selling your home in a slowing real estate market.

How stagers boost the selling price

Free Home Staging Tips
Home staging courses from a recognized expert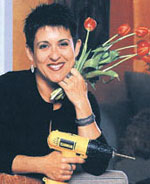 Debra Gould, creator of the Staging Diva Program, is a published author and since 2002 has been president of Six Elements, a leading staging company recognized in the US, Canada and internationally.
She has such contagious energy as she shares her wisdom in easy to understand language, that she's been highlighted in dozens of books, TV shows, magazines and newspapers in both the US and Canada from: The Wall Street Journal to CNN Money, Reader's Digest, Woman's Day, This Old House, HGTV, CBS Radio and more.
An entrepreneur since 1989, Debra Gould has personally taught over 7000 students to start and grow their own successful staging businesses.

More about Staging Diva Debra Gould

What is Staging Diva?
Established in 2004, Staging Diva® is one of the most recognized and respected names in home staging courses today— with Graduates across the U.S., Canada and more than 18 other countries.
Created by real estate staging expert Debra Gould, the Staging Diva Home Staging Business Training Program teaches HGTV fans and others how to use their decorating talent to grow a successful home staging business.
There are many products available to help new and established stagers alike.

Staging Diva® Graduate Home Stagers know how to bring out a home's best features, minimize flaws and decorate it for the right target market.
Taught to deal with clients with honesty and integrity, they also set the stage for potential buyers to fall in love with a property and say, "this is home!"

Home Staging (House Staging, House Fluffing, House Primping, Real Estate Staging) is the art of decorating a home to sell quickly and for top dollar.
Recommending wall colors, repairs and de-cluttering, arrangement of furniture, art and accessories; a professional Home Stager knows what changes yield the greatest return on investment.
Need a Home Stager?
We can connect you with our network of home stagers across the United States, Canada, and as far away as Australia, New Zealand, Europe, South Africa and South America!

Find a Home Stager

Join the Directory of Home Stagers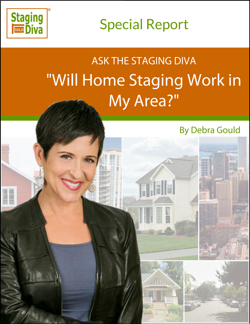 Wondering if home staging will work in your area or losing the courage to follow your dreams? This FREE report is for you! Learn how to figure out if a staging business will work where you live, how the real estate market effects stagers and how much you can make as a home stager!

Get your FREE copy