Who We Are & Privacy Statement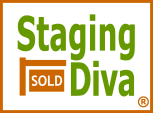 Staging Diva® and the Staging Diva logo are registered trademarks of Six Elements Design Group Inc., a company that is committed to protecting your privacy.
We have provided this notice to explain our online information practices and the choices you can make about the way your information is collected and used.
This notice applies only to the information collected on this web site, and does not apply to any other information Six Elements Design Group Inc. collects about you in other forums, such as through a "snail" mailing response, or over the phone.
We work hard to keep our web site up-to-date.
As our web site changes, our information collection practices may change as well. Such changes may necessitate updates to this privacy policy. We encourage you to return to this area periodically to check for updates. With this in mind, we do not share or sell our customer or student information to anyone, nor do we plan to in the future.
Please note that your acceptance of Our Privacy Policy is deemed to occur upon your first use of Our Site. If you do not accept and agree with this Privacy Policy, you must stop using Our Site immediately.
What We Collect
We have several different information collection areas on our site, from training registration, orders for reports or recordings, to newsletter and quiz sign-up forms.
We collect the information we need to respond to your request, which typically includes such contact information as name and email address, (and when you purchase a product) mailing address, and telephone.
Like most Internet sites, we collect some passive information from our visitors in order to properly maintain our site and determine what areas are more popular than others. We use passive tracking mechanisms to compile statistics that show, for example, the daily number of visitors to our sites. These statistics are used internally to better design our web sites and provide services to the public.
Information That Is Collected Automatically Via Tracking Technologies
When you visit or access the Site, including our email communications, we use cookies, pixels, web beacons, tags, and other tracking technologies to collect information about your engagement, as well as your browsing and purchasing behavior. These tracking technologies include:
Cookies: A cookie is a small amount of data that is sent to a website user's browser from a Web server and is stored on the computer's hard drive. We use non-identifying cookies to provide easier site navigation. Our Site can still be used if your browser is set to reject cookies. Our cookies do not generate personal data, do not read personal data from your machine and are never tied to anything that could be used to identify you. You can disable cookies at any time by changing your browser or device settings. Further information about how to disable cookies check your Internet browser provider's website via your help screen. Information gathered through cookies may include the date and time of visits, the pages viewed, time spent at our site, and the websites visited just before and just after our own, as well as your IP address. We may expand the use of cookies and saved data as we add new features to our website or new products or services.
Web Beacons: We use web beacons and single-pixel GIFS to track and gather data for marketing purposes. We also may use third-party analytic tools like Google Analytics that employ cookies to collect information about your use of our Services. We use these tracking technologies to deliver, measure, and improve our Site – whether accessed through a browser or a mobile device – in various ways. In particular, these technologies help make our Site easier to use, navigate and share, let us customize our Site to your interests; better understand you and how to deliver the best experience; present advertising based better tailored to your behavior on our Site; render better customer service, and compile anonymous, aggregated information that allow us to better understand our customers and visitors.
You have a number of options to control or limit how we and our partners use cookies:
How Your Information is Used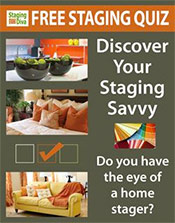 We use the information you provide to respond to your particular request, for example, to send you the special report or quiz in which you expressed an interest, or to have your training or other order fulfilled.
We will also use your contact information to tell you about other events in which we believe you may be interested.
We may use automated decision making in processing your personal information for some services and products, such as to determine what products you may be interested in.
How We Share Your Information
Student or graduate information and photos are only shared with express permission to be included in any of this site's pages (example: Rave Reviews or Home Staging Business Report) or on sister sites like StagingDivaReviews.com, or when Grads have purchased a listing in the Staging Diva Directory of Home Stagers for the purpose of generating business leads.
We may share contact information with third party processors in order to serve a request generated by you, such as for fulfillment of physical products to your mailing address.
Graduate information is also shared with homeowners and real estate agents looking for a home stager in their area. These referrals are only made with the permission of the Staging Diva Graduate.
Homeowner/agent contact information is shared with Staging Diva Graduates in their area, only with specific permission when the homeowner or agent contacts us through the Staging Diva Home Stager Locator Service.
Student testimonials are only used with permission. Home Staging Success Stories are not identified by student name unless used with permission.
We provide you with the ability to contact us about standard questions you may have at the "Contact Us" area of our site.
If you have any additional questions, or have other questions about this Privacy Policy, please contact us at:
Six Elements Design Group Inc.
Suite 245 – 1917 West 4th Avenue
Vancouver BC Canada
V6J 1M7
Data Transfers
In order for us to provide products and services to you, your personal information will be stored and processed in the United States and Canada.
Where data is shared with third-party data processors, your data will be captured, transferred, stored and processed in accordance with their policies, practices and in compliance with their local regulatory laws.
Data Retention
We will retain customer information for as long as necessary to comply with our legal obligations.
We purge non-customer email subscribers who have not engaged with the Company's email communications after 365 days. If you wish to delete your information at any time, please contact us.
Your Rights
You have rights in relation to the personal information we hold about you. Below is an outline of those rights and how to exercise those rights.
Please note that we will require you to verify your identity before responding to any requests to exercise your rights by providing details only known to the account holder.
Your Choices About the Use of Your Data: You can choose not to provide certain data to us, but you may not be able to use certain features of the Sites.
Marketing Email Communications: You always have the opportunity to opt out of our marketing communications with you or change your preferences by following a link in the footer of all marketing email messages from us, or by contacting us.
Transactional or Service Email Communications: Some communications from us are considered transactional or service communications (for example, important account notifications, product updates, and billing information), and your Company products and services are provided to you upon the condition that you receive these communications from us. If you do not wish to receive any transactional or service communications from us, you must notify us and explicitly notify us to opt-out of our marketing communications, as described above.
Navigation Information: You may opt out from the collection of navigation information about your visit to the Site by Google Analytics by using the Google Analytics Opt-out feature.
Information from Third Parties: To manage the information we receive about you from a social media site or other third parties, you will need to follow the instructions from that party for updating your information and changing your privacy settings, where available. The information we collect is covered by this privacy policy and the information the third-party collects is subject to such third party's privacy practices. Privacy choices you have made on any third-party site will not apply to our use of the information we have collected directly through our Sites.
Cookies: To get information and control cookies used for tailored advertising from participating companies, see the consumer opt-out pages referenced above under "Automatically Collected Information through Tracking Technologies."
Refund Policy

We want you to be satisfied with the Staging Diva products or services you order. If you don't feel that our materials are as described on the order pages, we'll give you a refund.
For downloadable courses, ebooks, special reports or checklists, refunds must be requested in writing within 48 hours of receiving materials. After that time no refunds will be issued. All refund requests must be submitted in writing, and at that time, any and all access to the digital materials will be terminated.
For physical products (like the home study kit), refunds must be requested in writing within 30 days of ordering. At that time you will be given instructions for returning your materials to us at your cost. Once these are received by us in satisfactory condition, you will get a refund for your purchase. We do not reimburse any shipping costs. After the 30 days no refunds will be issued. All refund requests must be submitted in writing.
For one-on-one coaching like Staging Diva Business Accelerator Coaching or the Website Check-Up Service, refunds must be submitted in writing or verbally during a coaching call within the first 30 minutes of coaching or 30 days from purchase (whichever comes first). Coaching time must be used within the first 6 months of purchase, no refunds are issued after that time.
For group coaching like Staging Diva Dialog, refunds must be requested within 48 hours of purchase. Failure to attend is not a reason for a refund since recordings are sent out for the event you missed.
For listings in the Staging Diva Directory of Home Stagers, you can cancel your listing at any time before your next billing cycle. So with billing every 3 months you are only committing to a 3-month period (which renews automatically until you cancel). When you select the annual billing plan, you are pre-paying for a full year, which includes 3 months FREE (or a savings of 25%). You cannot get a partial refund before the year is over, but you can cancel before billing for any subsequent year (you will be sent a reminder before each year's billing goes through). Ordering a listing in the Staging Diva Directory and never submitting your material for your listing is not grounds for a refund beyond what's stated in this paragraph. If you cancel your Staging Diva Directory Membership, you lose your membership in the Staging Diva Dialog Group Coaching Program, as well as free project referrals.
Earnings Disclaimer
Every effort has been made to accurately represent our program and its potential. The testimonials and examples used are exceptional results, don't apply to the average student/purchaser and are not intended to represent or guarantee that anyone will achieve the same or similar results. Each individual's success depends on his or her background, dedication, desire, and motivation. As with any business endeavor, there is an inherent risk of loss of capital and there is no guarantee that you will earn any money.
How To Contact Us
Mailing Address:
Six Elements Design Group Inc.
Suite 245 – 1917 West 4th Avenue
Vancouver, BC Canada
V6J 1M7