The Staging Diva® Network Membership
Graduates of The Staging Diva® Home Staging Business Training Program can join The Staging Diva Network OnLine Discussion Group. This is a great way to have ongoing support and feel connected with others going through similar experiences!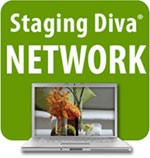 Once you're a member, you can log in whenever you like and read posts by other Staging Diva Graduates about their challenges and solutions, frustrations and victories. You'll be part of a community of like-minded individuals facing many of the same issues you have as you grow your own home staging, house fluffing or real estate enhancement business.
Have a question?

Post it to the group and read what others have learned.
Discovered a solution to a business challenge?

Share it with the Staging Diva Network community who can learn from you too.
Just won your first project or been featured in the media?

Post your news on The Staging Diva Network and enjoy the support and celebration from fellow members.
Want to brainstorm home staging business ideas with other members?

Invite members to join you in the Staging Diva Chat Room.