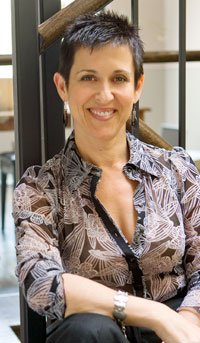 Home staging expert Debra Gould has been building her own websites since 1999. She's also spent hundreds of hours in courses about Internet Marketing, Search Engine Optimization, Building Effective Websites and more. She's ready to apply her knowledge and experience to YOUR website, saving you thousands of hours trying to figure this all out yourself!
If you answered yes to even one of these questions, I can help you by doing a Home Staging Website CheckUp!
I will personally review your website and tell you what's working and what needs to be fixed.
You won't be overwhelmed by technical terms, because I'll explain everything to you in plain English. I also won't bury you under a complicated report that intimidates you and prevents you from taking action.
I'm an artist and a home stager at heart, but I also jumped into building websites back in 1999 when I built my first site to sell my art.
I ended up on the cover of a magazine, had my work featured in a published book and even got invited for my first appearance on HGTV. All within 2 years of building that site! Oh, and did I mention that I also sold my art all over the US, Canada and as far away as Australia because people found me through my website?
I've built many more websites since then, including the one you're reading right now. I created every page, wrote every line of text, and all the photos are mine too.
Take a moment to think back to when you first discovered Staging Diva. My guess is that you found my website during an Internet search, right?
That's my proof that I know what I'm talking about when it comes to building a website that will get found by visitors and that will make you money in your home staging business.
In fact, my original SixElements.com website for my staging business is what attracted interviews from major media like CNNMoney, The Wall Street Journal, Reader's Digest, Woman's Day, MoneySense, This Old House, Better Homes and Gardens, National Post, Globe and Mail, CBS Radio, HGTV and more!
In 2002 when I started my home staging business, I used the Internet to establish myself as an internationally recognized home staging expert. During your very own Home Staging Website CheckUp with me, I'll share my secrets for how you can do that with your site too.
Please take some time to review all the details below. I look forward to helping you make more money from your existing home staging website!