The new "Staging Diva® Ultimate Portfolio Guide: Winning Clients With The Perfect Home Staging Portfolio" by home staging expert Debra Gould will give you the steps to creating the right home staging portfolio to build your business.
A "portfolio" is a key tool in presenting your talents
Your home staging portfolio can take the form of a website, a Profile page in the Staging Diva Directory of Home Stagers, or an album or scrapbook.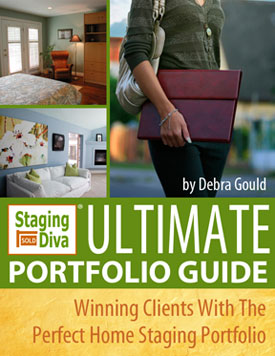 "How you present yourself is the single most important factor in determining your success as a Home Stager. I want you to go out there and dazzle your community with your strengths and what you have to offer.
Home Staging is immensely gratifying work and we can make a real difference in the lives of our clients. By creating a winning home staging portfolio, you'll be able to sell your services with confidence."

Debra Gould, The Staging Diva
President Six Elements Inc. Home Staging
Worksheets, Checklists and How To Information
Internationally recognized home staging expert Debra Gould has created worksheets, checklists and "how to" information to help you showcase the talents that brought you to your new career as a home stager in the first place.
If you're reluctant to sing your own praises, or feeling overwhelmed by the thought of putting together your before and after photos, this guide will show you how AND keep you focused on getting it done!
What a Home Staging Portfolio should contain
Take the guesswork out of trying to decide what to include in your portfolio, how to shoot the right before and after photos, how to go about writing about your talents.
There's nothing like facing a blank screen or sheet of paper to let those voices of doubt creep into your consciousness. "I don't have any talents!"" Why would anyone hire me?" Debra will help you silence those doubts by helping you remember your unique talents. She prods you with questions and then gives you copywriting tips to perk up your text.
Afraid of shooting your own before and after shots?
The Staging Diva Debra Gould shares her secrets for shooting great before and after photos. Don't even think of using stock images to sell your services. You're selling your design talents so you need to show them to prospective clients. Debra will show you how to do that.
Present your new home staging business and your talents with confidence! It will make the difference between having a creative hobby and having a real career as a home stager!
"Debra, the Staging Diva Ultimate Portfolio Guide is fantastic!! Everyone interested in the business of home staging should read it. You have a great writing style that puts the reader at ease. I especially liked how you went into detail about how to take perfect photos. Your Guide is not only helpful to home stagers but to Realtors who take listing photos.

As I scan through the hundreds of homes for sale in my county alone, I am shocked at the photos that are representing them. Congratulations on a great addition to your Staging Diva eBook collection." Laura Jensen (WI) *